Welcome back to The Pint Sized Review! Tonight's beer is *rolls for perception check, get's nat 20* Wizard burial Ground by Brewery Vivant! A bourbon barrel aged Quadrupel Ale that looks as wicked as it sounds. 
"Evidently We Look So Much Alike That Your Desire to Make an Incurable Dent in my Hat Must be Excused."
-Gandalf
I've been meaning to get to this beauty for some time. A wizard is never late, nor is he early. He arrives precisely when he means to! But at the same time, for Three-Hundred lives of Men I have walked this earth, and now I'm pressed for time.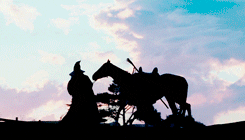 Pouring this beer (candles are a requirement), it presents as dark ruby or mahogany in color. Dark like Orc blood, but with a clear body and thin, white head like Saruman.
"If in Doubt, Meriadoc, Just Follow Your Nose."
-also Gandalf.
Taking old Stormcrow's advice, this beer leads me to plums and dates with a bit of licorice and honey. And oh my God, does this smell seductive. There is a bourbon heat that comes off like a mouthwatering aroma for whiskey lovers everywhere.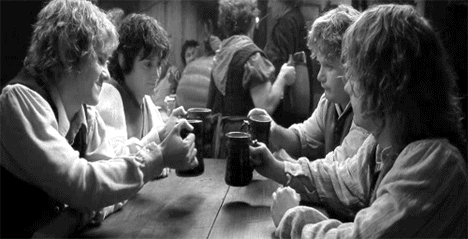 Do You Remember the Taste of Strawberries, Mr. Frodo?
This beer tastes f***ing awesome. I taste grapes, like what wine wishes it was. Grapes and bread and bourbon and wood. I feel like Dionysus drinking this with little cherub wings.
You know when you drink an old, familiar beer that might not be expensive, but is comforting, and you feel like you're home? This makes me feel like I'm on my way to a new home. Where I'd be comfortable retiring and dying. Not in a depressing, morose way, but in a way that says, "I'm happy. I am fulfilled."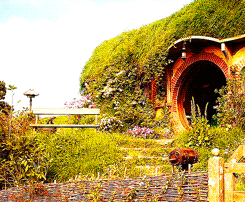 Drinking this signals that I can never look back. 
The World is Changing. I Feel It In the Water. I Feel It in the Earth.
This is such a cool mouthfeel. Not much carbonation, but screw it, who needs it? It sticks around for a second, makes itself comfortable, gets to know my taste buds, then slides on out of there like a polite guest just passing through, leaving nothing but a musk of comforting, warming booze to remind me that I am, indeed, loved.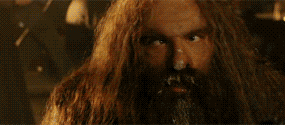 There isn't as big of a booze hit as you'd expect from 10.4%, but that's just fine. It lets you knock it back a little easier, and make you feel warm and comfortable.
At the End of All Things.
This is, without a doubt, in this immediate moment of my life, the best beer I've ever had. At the risk of sounding like a pretentious beer snob, the flavors in this, the imagery, the setting I've created in my own mind all in combination almost brought nostalgic tears to my eyes. It started as a bit of a joke, but I can see this being a classic beer that would fit right in with Middle-Earth aesthetics and local cuisine. 
Growing up with this series didn't influence me at all!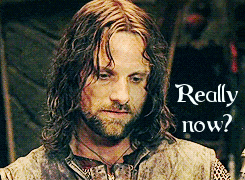 I'd pair this with lembas (elven bread), twelve hour movie marathons, salted pork, and the comfort of friends who would never leave you nor let you down. 
There may only be One Ring to rule them all, but there are thousands of different breweries with so much to offer. Got a brew you want to share with me? I take submissions and donations to the cause! Email me at dennis@thepintsizedreview.com or shoot me a message on any of my social media accounts. You can follow me on Twitter @drinkpintsized, Instagram @thepintsizedreview, or the way your parents get their news: on Facebook. Just search "The Pint Sized Review" and you'll find me. Donate on our Patreon, and if you can't please like, share our posts, and join the mailing list so you always know when we are putting out some stupid stuff for a laugh and maybe, just maybe, some education. 
Peace!
###