Welcome back to The Pint Sized Review! I just woke up, so might as well have beer for breakfast.
Today we are gonna be sinking our teeth into the increasingly popular brew from New Holland Brewing, Tangerine Space Machine!
According to the can, it's a Citrusy, Juicy, Hazy New-England-Style India pale ale.
These guys use more descriptive words than a 10th grader desperately trying to meet their word count requirement for an English project. Shoot for the moon, kids!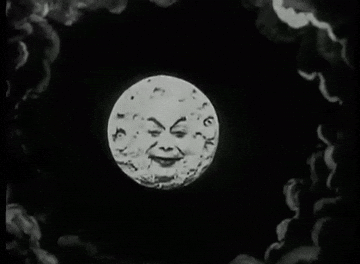 Two Possibilities Exist: Either We Are Alone in the Universe or We Are Not. Both Are Equally Terrifying. Hey, Look at this Beer!
Taking a gander at this beer, it looks like a ruddy dirty orange got blended in a mildly used, dubiously washed blender from a juice bar in a soon to be abandoned mall armed with an approximate knowledge of food safety. With a big soapy, even head. Says it's a New England IPA, but it looks like Jamba Juice (that's the business I was thinking about!).
Astronauts Say Space Smells Like Burning Ozone and Seared Steak. What About This?
If I were to describe beer like some douchey online beer review site, I'd say this smells like orange oil and Flintstones vitamins (specifically when you open the bottle and all the chalky dust flies up).
I get virtually no hop smell from this. It's all just oily tangerine peel and the promise of a better tomorrow.
A Taste of the Cosmos!
Taking a sip, it tastes… well, like orange oil and Flintstones vitamins followed by… flax seed?
Ever have a beermosa? It's when you take a lighter beer like a blonde ale and mix it with orange juice. This is like an IPA mixed with Sunny Delight.
As it warms up, the hop bitterness does start to come through, but it's more of a background player. Imagine the command center of Houston during every space launch: you know it's important, but nobody pays attention to those nerds.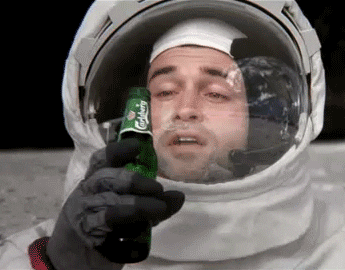 Bring It Back Down to Earth
With the exception of the fact that I can't see though the glass, I'm wondering why it's classified as a New England IPA. Is it hazy? Yes. Is it an IPA? Yes, so on those counts that makes sense. But if you're looking for that hop-bomb bitterness that's ever so popular or citrusy juiciness you can get from the hop boil itself, this isn't it. The hop presence is absolutely masked by Tang, which doesn't make this a bad beer. It fact, it's quite good. But it does feel like it has enough Vitamin C to give me a kidney stone. Would recommend on a one way colonization trip to Mars. It's a fun beer!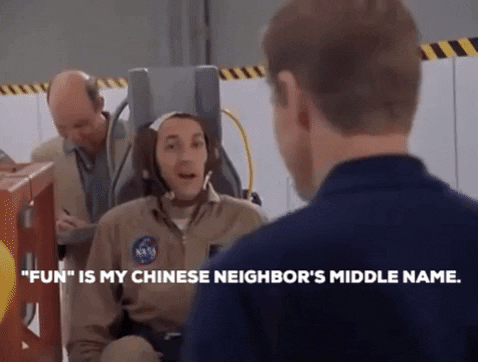 I'd pair this with with protein pills, The Many Adventures of Florida Man, and the movie Rocketman (1997). This is what Floridians would drink if they could grow oranges on other planets.
Space may be the final frontier, but there's still a lot of beer to explore before the sun explodes. Got a brew you want to share with me? I take submissions and donations to the cause! Email me at dennis@thepintsizedreview.com or shoot me a message on any of my social media accounts. You can follow me on Twitter @drinkpintsized, Instagram @thepintsizedreview, or the way your parents get their news: on Facebook. Just search "The Pint Sized Review" and you'll find me. Donate on our Patreon, and if you can't please like, share our posts, and join the mailing list so you always know when we are putting out some stupid stuff for a laugh and maybe, just maybe, some education.
Peace!
###