Welcome back to another Pint Sized Review! Finally back in the swing of things after traveling all over, I feel like Patient Zero after being in such close proximity with just… people. Lots of people.
Today is two things! First, it's opening day of deer season, so if you're a Yooper like me, I salute you and will crack open a PBR later today in your honor. I'd pour it out for you, but I'm pretty sure wasting cheap beer during rifle season will anger the Old gods. 
Secondly… it's my dog's birthday today. He's seven years old, and I think it's time I buy him a beer.
Well pitter patter, let's get at 'er, boys.
The Beer
Today's review is brought to you by Barrel Aged Nutter Your Business by Grand Armory Brewing in Grand Haven, MI.
What's This Sh** Look Like?
Pouring with a hard pour, this beer is dark like incognito mode.
Tan, thin head at the top that pissed right off as soon as it felt like it. 
Whatchu Smell, Boi?
This beer smells like a box of cracker jacks, and the prize at the bottom is you can't drive or operate heavy machinery. The barrel aging seems to have given it a sweet, rich, almost caramelized aroma, but that could also be the peanuts. It's like the best parts of a baseball game, which are the peanuts and crackerjacks, and the steroids.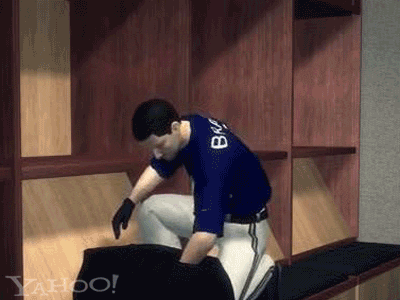 Does it Taste Like Sunshine and Happiness?
Taking a sip it's clear I wasn't ready for what transpired. It's SO good. It's so creamy and malty to me, despite the can saying it has an IBU of 66 (for the record, IBU's stand for International Bittering Unit, and it's a load of crap. I get why it's there, but you can read here why I think beer snobs take that number too seriously).
There is a serious peanut-y flavor to it. Like drinking a Reese's cup. The flavor isn't so strong as compared to the smell, but dang if it isn't awesome.
The barrel gives it a bit of a bite on the back end I wasn't expecting, but surely doesn't temper that peanut buttery goodness. Creamy like JIF should be. I taste virtually no hops whatsoever.
As far as mouthfeel is concerned, this doesn't feel as syrupy as other barrel-aged beers can be. A little more watery without being watered down, but this beer's got legs and she knows how to use them.
Breathing out there's actually a mild boozy hotness coming off the back end there, which is a bit unusual for a 10% beer. But there's really nothing "usual" about this. It's an allergic reaction in a can for some, and a wonderful experience for others.
Wrap it Up, Dude
I love this beer, and I love how adventurous Grand Armory is with their styles. I think depending on who you are this beer pairs with decoder rings, waiting for your food at Five Guys, human growth hormone, or an epipen if your bloodline is weak.
Excuse me while I get wrecked for my dog's seventh birthday party. 
Badger's treats were wonderfully donated by Decadent Dogs in Holland, MI! He lives much better than I do. Got a brew you want to share with me? I take submissions and donations to the cause! Email me at dennis@thepintsizedreview.com or shoot me a message on any of my social media accounts. You can follow me on Twitter @drinkpintsized Instagram @thepintsizedreview or the way your parents get their news: on Facebook. Just search "The Pint Sized Review" and you'll find me. Donate on our Patreon, and if you can't please like, share our posts, and join the mailing list so you always know when we are putting out some stupid stuff for a laugh and maybe, just maybe, some education. 
Peace!
###